Like the proverbial kid in a candy store, Duane (Dewey as he is known to family and friends) Forte eagerly grabs material samples to share with his new clients. "He is just as excited as we are about our future pool," the customer says. "Maybe even more so." That enthusiasm resonates throughout Laguna Pool & Spa, the company Dewey literally built from the ground up almost 25 years ago.
A Las Vegas native, Dewey's love for swimming pools began at an early age. While watching his father act as owner/builder of the family pool, he decided to make a career in the pool industry. He was just 10 years old. The summer months of his teenage youth were spent servicing the Las Vegas municipal swimming pools. After earning a degree in business from UNLV, he opened Laguna Pool & Spa in 1991, building just 12 pools the first year.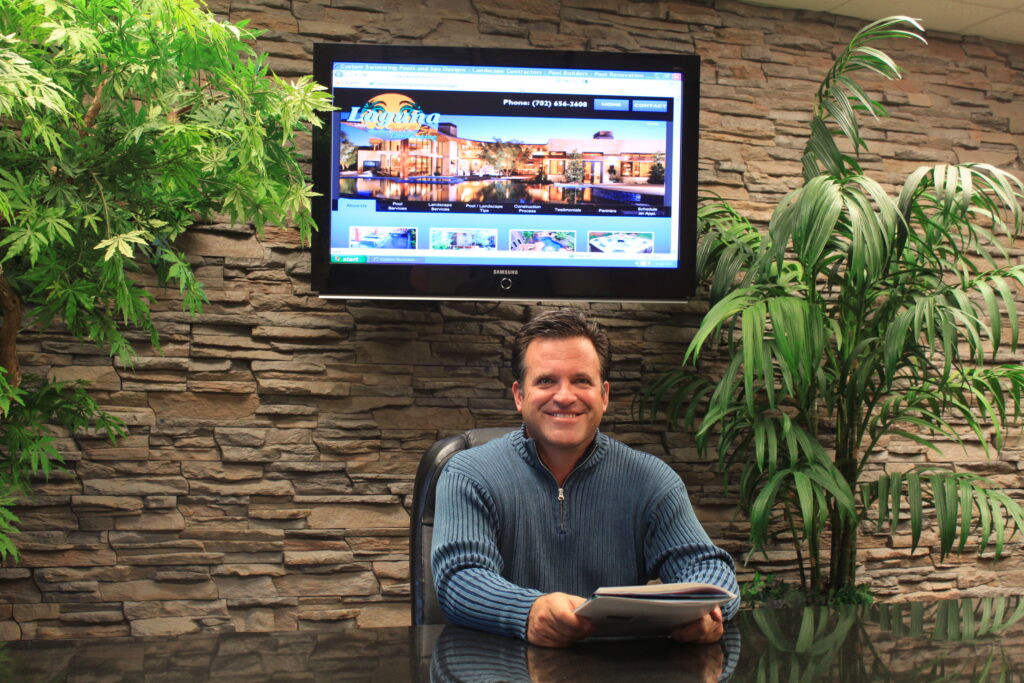 Since its inception, Laguna has constructed thousands of swimming pools in and around the Las Vegas area. At its peak during the housing boom of 2004/2005, the company was producing close to 200 pools per year. "That was just too much for me," Dewey laments. "We couldn't devote the time and attention to detail necessary for excellent customer service that our clients deserve." He now comfortably manages the hands on day-to-day operations that create around 100 pools annually.
The success of Laguna can also be attributed to Dewey's desire to further his education and expand the business by reinvesting. He proudly admits that Laguna possesses 5 Nevada State Contractors Licenses (Pools & Spas, Landscaping, Masonry, Concrete and Plumbing), has 2 locations in town, owns 17 trucks, 3 dump trucks, excavators, skid steers and much more. But his material worth cannot measure up to his affection for the people around him. "The Laguna family is comprised of knowledgeable professionals, from the crew members and superintendents to the office manager and designers. I make sure they have the tools, equipment and support they need to be productive and then reward those accomplishments. But the end result should always be a happy customer."
Pools have been an integral part of Dewey's life, family experience and home environment and one can only hope that his passion for pools will continue to bring health, happiness and prosperity to thousands more in the years to come.